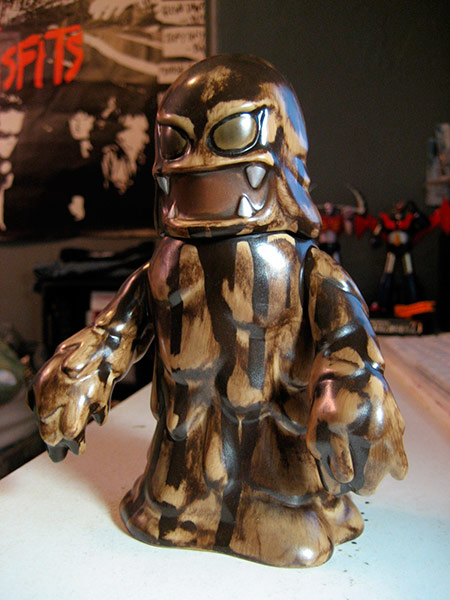 Pushead x Rockin' Jellybean Fudge Damnedron
This came out about a year ago and I have been searcing high and low for one, limited to somewhere between 70-100, it was a tough find
Some information (translated):
"Notorious Japanese artist & lucha libre mask aficionado ROCKIN' JELLYBEAN will celebrate the 2nd year anniversary of his Erostika shop in Harajuku on Saturday, November 4th with a special party & toy release featuring an exclusive PUSHEAD colorway Damnedron toy by Rumble Monsters. In addition, a special event poster & T-shirt will be available at the store. Get ready to queue, people…"
PUSHEAD design and RUMBLE MONSTERS production "DAMNEDRON HOT FUDGE Ver. by PUSHEAD"
– [damudoron] [pasuhetsudokara] ([sohubi])
Selling price: 6,800 Yen
The number of sales: Shop front 30 body and net mail order 40 body
"DAMNEDRON HOT FUDGE Ver. About by PUSHEAD" sale method
* As for shop front sale AM11: At the EROSTIKA shop front it does from 00.
* Only one person 1 bodies sell to first-come 30 name.
* As for net mail order PM12: This HP (now viewing HP which it has received) being similar from 00, we sell.
* PM12: When it becomes 00, link to the net mail order page is put out.
* At e-mail please order necessary item in regard to all entries.
* Only one person 1 bodies sell to first-come 40 name.
* As for net mail order only the generation pulling you handle.