Tuesday, February 28th, 2006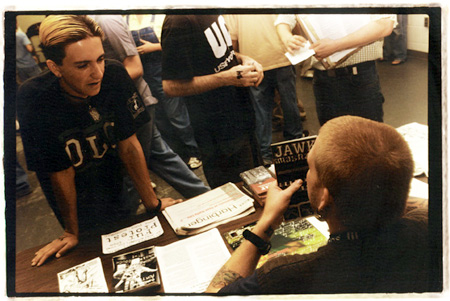 Neighbor has been rooting through all his old photos… today's find is of me in about 1996 selling my zine at some show. I believe this show is at the Buford Civic Center. Things of note in this picture: My sweet sweater vest, sick chin strap, the lack of tattoos on my fore arms, the One Life Crew shirt on the kid I am talking too, the headless Billy Cole in his Uniform Choice shirt.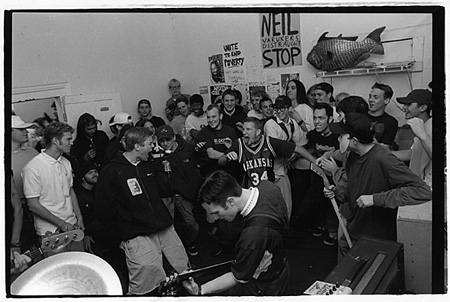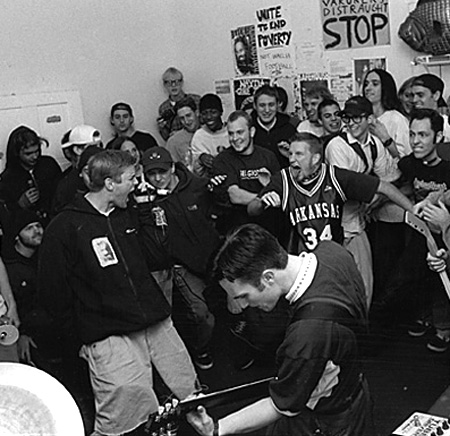 A fucking CLASSIC! Regecide destroying lives at the I Defy House. Judging from the amount or neck armor and lack of tattoos I am going to say this is 1995. Contrary to what you may think I do not now or have never supported the Arkansas Razor Backs. Gray and Mathis rage. Some notable dudes pictured including Will Greene (flipping gray off), Mike C-Town, Matt NorthPoint (Buddy Holly glasses and backpack), Claytheist, Marcus Lowe (rocking a Judas Priest shirt), Justin McKnight of Justice (bracing for the mosh), Scott MC (hockey mask and stick).